Facebook is now really notorious for being rather problematic with data protection. It is therefore all the more incomprehensible that the social network now apparently wants to remove the link for the privacy policy as of 01 August 2019 and requests that such a link be included in the page description, for example.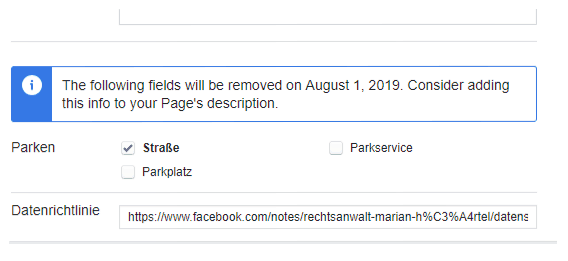 After the ECJ confirmed that operators of Facebook pages are themselves responsible for data processing, anyone who operates a Facebook page – e.g. for their company – should make absolutely sure that they are not left without a linked privacy policy in August. I bet that resourceful warning agents are already making preparations.
I myself have placed my special privacy policy under notes, which is now also included on the page as an extra tab to cover the vexed topic of "Insights".
I run this page to draw attention to my services as an attorney and to connect with you as a visitor and user of this Facebook page.
The operation of this Facebook page, including the processing of personal data of users, is based on my legitimate interests in a timely and supportive information and interaction opportunity for and with my visitors pursuant to. Art. 1 lit. f. GDPR.
The European Court of Justice ruled on June 5, 2018 that the operator of a Facebook page is jointly responsible with Facebook for the processing of personal data. I am aware that Facebook uses user data for advertising, user profiling and market research purposes and uses cookies to store and further process this information. If you have a Facebook profile and are logged in to it, the storage and analysis also takes place across devices.
Facebook's privacy policy contains further information on data processing: https://www.facebook.com/about/privacy/ Opt-out options can be set here: https://www.facebook.com/settings?tab=ads and here http://www.youronlinechoices.com. Facebook Inc., the U.S. parent company of Facebook Ireland Ltd., is certified under the EU-U.S. Privacy Shield and thus gives an undertaking to adhere to European data protection guidelines. More information on Facebook's Privacy Shield status is available here: https://www.privacyshield.gov/participant?id=a2zt0000000GnywAAC&status=Active. The transfer and further processing of personal data of users to third countries, such as the U.S., as well as the associated possible risks for users can not be excluded by me as the operator of the site.
Via the so-called "Insights" of the Facebook page, statistical data of different categories are available for me/us. These statistics are generated and provided by Facebook. However, I have no influence on the generation and display. I cannot turn off this function or prevent the generation and processing of the data. For a selectable period of time and for the categories fans, subscribers, reached people and interacting people, I am provided with the total number of page views, "Like" votes, page activities, post interactions, reach, video views, post reach, comments, shared content, responses, share of men and women, origin based on country and city, language, views and clicks in the store, clicks on route planners, clicks on phone numbers related to my Facebook page.
I do not use this data for further analysis, modification or identification of users. Only Facebook has full access to the user data. If you have any questions about the exact content, please contact Facebook directly with requests for information or other questions about your rights as a user. If you need assistance with this or have any other questions, please feel free to contact me. If you no longer wish to have the data processing described here in the future, please cancel the connection of your user profile to my site by using the functions "I no longer like this page" and/or "Do not subscribe to this page".
If you want, you are welcome to use them adapted on your Facebook page.