Attention: Due to the explosive nature of the current situation, this blog post must not be understood as concrete legal advice – as is actually the case with every blog article here. Attention must always be paid to the individual case. In addition, some legal issues arising from these events are likely to be quite contentious.
GameStop shares have been extremely volatile in recent days, rising around 1,800 percent at times. Experts see a parallel to the period before the tech bubble burst, with some seeing it as an uprising against the power to influence hedge funds' share prices.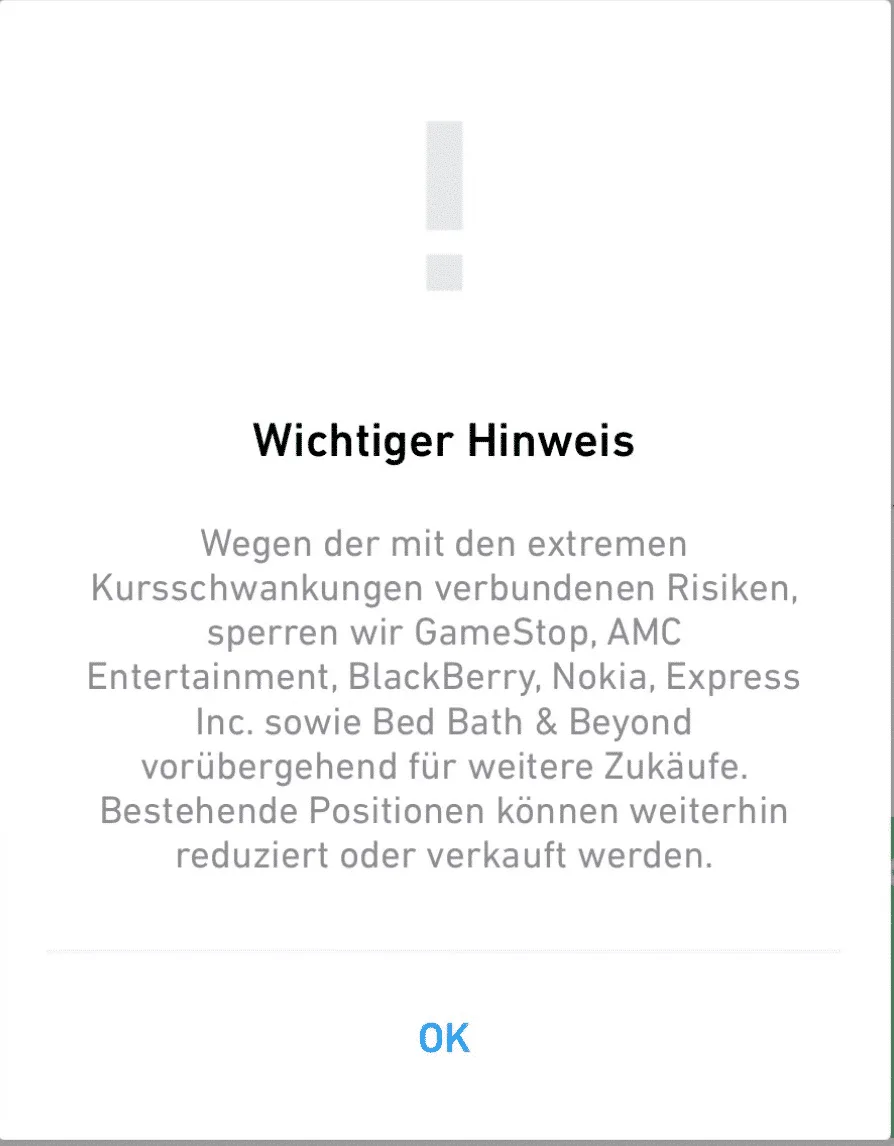 However, since this blog does not bring financial information, but discusses legal issues and legal problems, I am interested in a completely different phenomenon here.
Providers of trading apps such as Robinhood or Traderepublic have currently or temporarily suspended trading in some of the affected stocks and no longer allow purchases.
But is this permissible? Isn't this behavior likely to cause massive damage or loss of profits to retail investors who use these apps?
Trade Republic is not liable for damages caused by force majeure, riots, war or natural disasters or other events for which Trade Republic is not responsible (e.g. strikes, lockouts, traffic disruptions, orders of domestic or foreign authorities). domestic or foreign authorities).
According to the company's own reports, technical problems were to blame for the blocking of purchases. However, it is highly probable that this statement is a protective assertion. Rather, it is likely to be assumed that numerous contractual relationships have been breached here, which could result in a number of claims for damages for the young provider. While the "non-availability" of the app can still be considered as higher circumstances, the blocking of the purchase option is a unilateral act of the provider, thus a non-fulfillment of contractual obligations, which is hardly likely to be covered by GTC regulations, and therefore quite conceivably a damage claim.
In other respects, too, Trade Republic's GTCs only contain information obligations, for example, and no blocking rights:
Trade Republic is entitled pursuant to sec. 63 para. 5 WpHG, Trade Republic is also obliged to assess the compatibility of the securities offered by Trade Republic with the needs of its clients, also taking into account the so-called target market. The Target market defines which investors the issuer of a security is targeting. When defining the target market are the typical investment objectives (including investment horizon), the knowledge and experience typically required by the customer to understand the risks of the particular security, and the typically required Risk appetite to be taken into account. Trade Republic will, in the case of buy orders for securities, use the information requested by the customer. draw on information that relates to its knowledge and experience with respect to transactions in certain types of of securities. Other information provided by the customer by any other means has, Trade Republic will not use. Therefore, Trade Republic will only verify that the customer is in compliance with the the client belongs to the target market of the respective security with regard to his knowledge and experience. If, based on the information provided by the customer, Trade Republic comes to the conclusion that the customer does not belong to the target market of the respective security with regard to his knowledge and experience, Trade Republic will inform the customer of this fact. point this out to the client.
And Trade Republic clarifies – for good reason:
Trade Republic does not provide investment advice or asset management services to the client.
In addition to the civil law issues and, of course, the problems of enforceability and provability of individual claims, questions of market manipulation could also arise here.
The regulations of the Market Abuse Regulation have been in force since July 2016. In the event of violations of their prohibitions on market manipulation, various criminal and administrative offenses may be conceivable pursuant to Section 119 and Section 120 of the German Securities Trading Act (WpHG). Fines of up to EUR 15 million or 15% of annual turnover or up to five years (if the offense is committed on a commercial or gang basis or in the course of an activity for a financial supervisory authority, a securities trading company, an exchange or a trading venue operator, up to ten years) imprisonment may be imposed.
Even if Trade Republic has this passage in their T&Cs:
Market manipulation is defined as conduct aimed at influencing price discovery on the capital markets through unfair measures, thereby generating unjustified profits. With regard to market manipulation, there are extensive regulations, which are laid down in particular in EU Regulation 596/2014 and in legal acts based on it. In this context, for example, the within-itself trade (buy and sell orders of one and the same customer threaten to meet each other) is already considered as market manipulation. Trade Republic has taken precautions to prevent typical market manipulation practices. However, it is the responsibility and self-interest of each client to avoid market manipulation.
the question arises, whether the offerer, by the blockage of the purchase option, has not just realized the facts!
The week could thus change unpleasantly for the providers, because even if currently probably the trade as possible, damages of customers and thus civil claims against the trading venues could be at least conceivable. Anyone who has suffered loss or damage should check whether they are claiming it.