In 2014, the European Union Intellectual Property Office (EUIPO) registered the following EU trade mark for clothing, footwear and headgear in favour of adidas: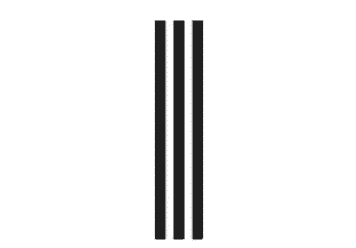 In its application, adidas had indicated that the mark consisted of three parallel strips of uniform width arranged at the same distance from each other, which were affixed to the goods in any direction.
In 2016, following an application for annulment by the Belgian company Shoe Branding Europe BVBA, EUIPO annuld the registration of that mark on the ground that it had neither original nor distinctive character obtained through use.
However, the ECJ has now ruled in favour of its annulment decision and dismisses adidas' action against EUIPO's decision.
The General Court observes, first of all, that the mark in question is not a
pattern mark that would consist of a series of elements that are repeated regularly, but an ordinary figurative mark. The Court then finds that forms of use which differ from the essential characteristics of the mark, such as its colour scheme (black stripes on a white background), cannot be taken into account.
EUIPO was therefore right to reject many of the evidence submitted by adidas on the ground that they concerned other signs, such as, in particular, signs in which the colour scheme was reversed (white stripes on a black background).
Finally, the General Court finds that, in finding that adidas has not demonstrated that the mark in question was used throughout the territory of the European Union and that it gained distinctive character as a result of its use in that territory, it was not able to do so. has not committed any error of assessment. Of the evidence submitted by adidas, the only evidence of some relevance related only to five Member States and could not be extrapolated to the whole of the Territory of the European Union in the present case.