LinkedIn InMail – A great tool for business communication
As someone who is regularly on LinkedIn, I know how valuable the InMail tool can be. It's like a magical door that opens to a world of potential business partners, employers and peers, whether they are already part of my network or not. But in my years of experience, I've also learned that there are some legal issues to consider when using LinkedIn InMails. The fine line between effective, productive communication and unwanted harassment can easily be crossed.
For example, if I send a business message without first obtaining the recipient's explicit consent, it could quickly be considered improper advertising or, worse, spam. Such practices may not only damage my professional reputation, but may also result in legal consequences. I've learned that it's always best to stay on the safe side and comply with the legal framework to ensure that my communications on LinkedIn are effective and legal.
The gray area: When does a LinkedIn InMail become spam?
As with any digital means of communication, LinkedIn InMails are at risk of being misused as spam. However, it is important to distinguish here between the general linguistic usage of the term "spam" and the legal understanding according to the Unfair Competition Act (UWG).
In everyday communication, the term "spam" is often used to describe unsolicited, mass or unwanted messages. In the context of LinkedIn InMails, this can be, for example, a generic business request sent to a large number of people without regard to the individual interests of the recipient. Such messages can be perceived as disturbing or harassing and damage the image of the sender.
On the other hand, there is the term "spam" in the legal sense, as defined in the UWG. According to §7 of the UWG, a business act in which a message is sent for advertising purposes without the recipient's prior express consent is illegal. In this context, a LinkedIn InMail message can be considered spam if it is sent unsolicited for advertising purposes and the recipient has not given explicit consent for this.
It is important to emphasize that the consequences for sending spam under German law can be far-reaching. In addition to potential reputational damage, there may also be legal consequences, including warning letters and fines.
Therefore, when sending LinkedIn InMails, it is critical to always be aware of both the personal perception of the recipient and the legal framework. Only by using this means of communication responsibly and in compliance with the law can we realize the full potential of LinkedIn InMails while avoiding legal problems.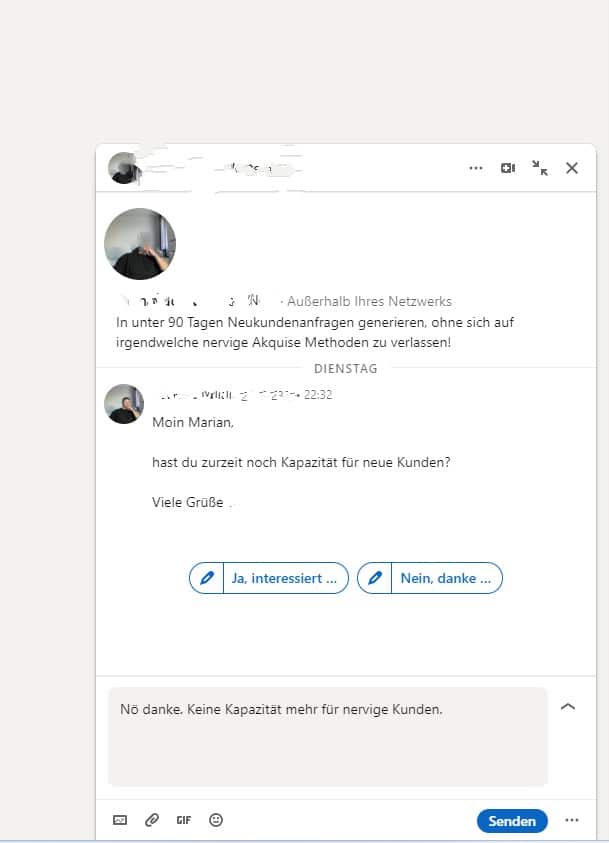 Legal basis and judgments – When is spam illegal?
The Unfair Competition Act (UWG) in Germany provides a clear framework for sending advertising messages. In particular, Section 7 UWG stipulates that a commercial act in which a message is transmitted without the prior express consent of the recipient is deemed to be unlawful advertising. This principle has been supported in numerous court decisions.
For example, the Munich Higher Regional Court ruled in a judgment of September 27, 2012 (Case No. 29 U 1682/12) that sending unsolicited advertising e-mails to private individuals constitutes an unlawful infringement of the general right of privacy. This ruling could also be applied to LinkedIn InMails, as it also uses a personal messaging feature to send promotional content.
A particularly relevant ruling with regard to the sending of spam e-mails was handed down by the Berlin Regional Court on March 2, 2012 (Case No. 16 O 551/11). The court ruled in this case that sending unsolicited advertising e-mails without the recipient's express consent constitutes a violation of competition law and can be warned accordingly.
It is important to note that in addition to this ruling, there are countless other court decisions that deal with the issue of spam emails. For example, the sending of unsolicited commercial e-mails is a recurring topic in case law and is often the subject of legal disputes. These rulings underscore that the issue of sending unsolicited emails – whether in the context of LinkedIn InMails or other means of communication – is both legally and ethically significant.
It therefore pays to consider carefully before sending LinkedIn InMails and ensure that you have the recipient's consent. In this way, you can avoid the risk of a warning letter and at the same time gain the respect of your business contacts.
Despite this clear case law, one could argue that the use of LinkedIn InMails is a gray area because this tool is explicitly provided for in LinkedIn's terms of service and its members implicitly agree to receive messages from other members. This could potentially be interpreted as a form of "prior consent." However, LinkedIn's terms of use also emphasize that members are not allowed to send spam messages. Therefore, it is unlikely that mere membership in LinkedIn can be considered as express consent to receive advertising InMails.
Overall, it is clear that caution should be exercised when using LinkedIn InMails. Careless use of this tool can quickly be perceived as spam and result in legal consequences. It is therefore important to always obtain the recipient's consent before sending an InMail message for advertising purposes.
Good practices for using LinkedIn InMails
To ensure that your LinkedIn InMails are perceived as valuable content and not spam, you should follow some basic rules:
Personalization is key: avoid mass, generic messaging. Make each message individual and relevant to the recipient.
Offer value: Make sure your message offers something of value to the recipient. Whether it's a professional opportunity, a useful webinar, or an interesting article, value should always be at the forefront.
Obtain consent: Ask for the recipient's consent before sending commercial messages. Not only is this required by law, but it also increases the likelihood that your message will be received positively.
Striking the right note
The sound makes the music. When wording your InMails, make sure to be professional, but friendly and respectful. No one wants to be confronted with hard sell tactics, especially in their professional inbox.
Subheading 6: The right frequency – Don't overdo it!
Another point to consider when using LinkedIn InMails is frequency. Too many messages in a short time can quickly be perceived as intrusive and annoying. Try to keep contact to a healthy level and give the recipient enough space to respond to your message.
Conclusion:
LinkedIn InMails offer a fantastic way to build relationships and expand your professional network. But as with all tools, it all comes down to proper application. With a little care and consideration, you can ensure that your messages are perceived as valuable contributions and not as unwanted spam. Because at the end of the day, that's what professional networking is all about: respect, added value and mutual exchange.